I sit here today having just eaten a single slice of toast - and I'm regretting it.
You see, over the past few months I think I've narrowed down the cause of my frequently rumbly tum - and it's wheat.
Yes, it looks innocent enough, but beware - it is a thing of the devil!
Now I know that this may resonate with more than one of you here, since I recently had a conversation on Twitter with a few others about it. I was shocked to find how widespread an intolerance to wheat actually is.
I don't think it's gluten
per se
that's the problem. I just think it's wheat - or anything containing wheat for that matter. Slowly but surely, I've tried to eliminate it from my diet and I do believe that I've been proven right. But that doesn't make it any easier to handle... I mean, look at the list of foodstuffs I should be avoiding:
wheat, wheat berries, wheat bran, wheat germ, wheat grass or any form of the word wheat

flour, bread, cakes and cookies

semolina, pasta, couscous, tabbouleh

doughnuts, pies, pretzels and other baked goods

gnocchi, chow mein

snack foods

soups, gravies and thickened sauces

breaded meats or vegetables, dumplings or meatballs (no fried chicken for me!)

salad dressings, Worcesteshire sauce and other condiments

beer (say what???)
Recently, I happened to mention my discovery to my GP, in the hope that he might be able to suggest a cure (stop sniggering). He launched into this big spiel of how I would need to go back to eating wheat for about six weeks before having a rather invasive test (yeeuuuww!) and then explained that - should the test prove positive - it would indicate that I am, in fact, wheat intolerant (no shit Sherlock!). When I then asked what the treatment would be, he looked down nervously at his prescription pad and mumbled something about 'diet'.
So, let me get this straight. First you want to make me eat wheat-laden foods which I happen to know will have me in agony for the next six weeks. Then you plan to poke about in places I care not to mention in order to get a 'sample' (yeeuuuww again!). And finally, if all of your torture proves my self-diagnosis correct, the only thing you're going to suggest is that I
don't eat wheat
? Um, hello? Isn't that what I'm doing already?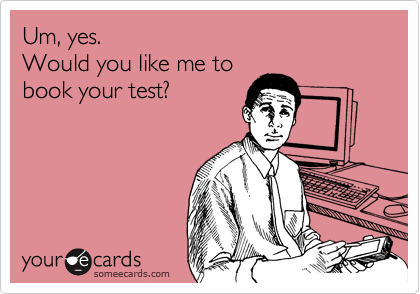 Errr, that would be a resounding "No!"
Needless to say I have declined to be tested. What's the point? And in the meantime, if I feel the urge to eat the odd slice of toast (when I really, really crave some comfort food), I'll do it with my eyes wide open to the fact that I will - indeed - probably regret it once it's been devoured. Oh, and I'll make sure there's a bathroom close by to deal with the aftermath.
Apologies for giving you TMI there... ;-)
This post was brought to you from the UK by CC x